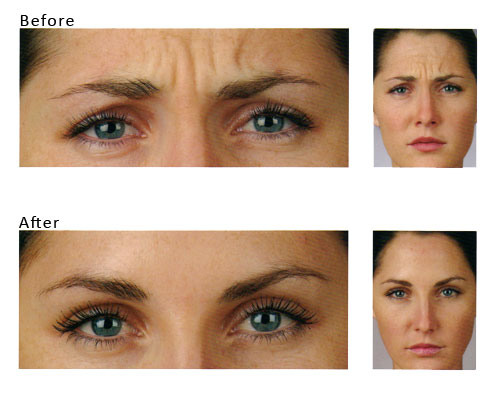 Fine line & wrinkle injectables treatment is a simple treatment which can dramatically soften facial expression lines, frown lines & crows feet, horizontal lines & prominent bands of muscle in the neck alongside reducing the appearance of large jaw muscles in both men & women without surgery, scars, and recovery time.
Botox® is the most common form of botulinum Toxin type A and they have been used cosmetically for more than 10 years and it has also been used to treat certain medical conditions in the UK for over 20 years.
How the Treatment works?
After a full consultation the treatment is carried out using a very fine needle.  The toxin is placed carefully into the muscles that cause the fine lines and wrinkles.  The treatment itself will take approximately 10-15 minutes.  Topical anaesthesia can be used if patients require it.
After the treatment there may be some mild redness but this quickly fades in 10-15 minutes.  The effects of the toxin takes an average of 2-3 days to start working although it may take a little longer for the full effects to be seen.  The speed of action will depend upon the strength of your facial muscles & your individual response to the injection